Englisch lernen in Kanada
Wenn sie in einer sicheren, grünen und freundlichen Umgebung, in der Nähe von wunderschönen Landschaften, Englisch lernen und die kosmopolitischen und dynamischen Gegebenheiten einer Stadt nicht missen möchten, dann ist Kanada das perfekte Ziel für Ihren Sprachaufenthalt.
Unsere beiden Sprachschulen in Kanada liegen zentral in den sehenswertesten und aufregendsten Städten von Kanada. Sie bieten die neusten Sprachtechnologien, hervorragend ausgestattete Schulräumlichkeiten und verfügen zudem über freundliche, sehr erfahrene Lehrpersonen und Mitarbeiter, welche Sie in Ihrem Vorhaben unterstützen, ob Sie nun einen spezifischen Prüfungskurs oder einen allgemeineren Sprachkurs besuchen. In Toronto befindet sich unsere Schule in einem modernen Gebäude inmitten der schönen grünen Wohngegend Rosedale, ganz in der Nähe des Haupteinkaufsviertels Yorkville. Unsere Schule in Vancouver liegt in Gehweite zu den bedeutendsten Sehenswürdigkeiten inmitten des Stadtzentrums.
Unsere LSI Sprachschulen in Toronto und Vancouver bieten beide ein abwechslungsreiches und hochinteressantes Freizeitprogramm an, welches die ideale Ergänzung zu Ihrem  Englischkurs in Kanada ist. Von Ausfügen zu den weltbekannten Niagarafällen oder zum Whistler Skiresort über Picknicks bis zu NHL-Hockeyspielen – mit Hilfe von LSI Kanada erleben sie dieses Land dort, wo es am schönsten ist.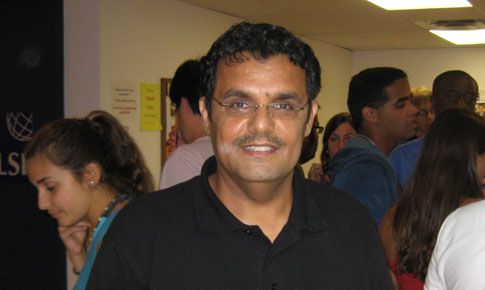 "Die Schule ist gut organisiert - Personal und Lehrer verwenden ein hervorragendes System und Hilfsmittel, die..."
Weiterlesen
Top 5 reasons to study abroad in Canada
Natural beauty
Canada is the second largest country in the world and home to a great variety of landscapes and natural attractions. With thousands of mountains, lakes and rivers, Canada is an ideal location to admire the great outdoors while on a study abroad trip. Surrounded by the Pacific, Arctic and Atlantic Oceans, Canada has the longest coastline in the world. On the west coast, British Columbia benefits from warm ocean currents that ensure a mild climate year-round. Victoria, the capital of British Columbia, lies on the southern end of Vancouver Island and is the warmest city in Canada. The city of Vancouver lies to the east of Vancouver Island and offers unparalleled access to nature. Whale watching tours offer the chance to see orcas and humpback whales as well as seals, sea lions and eagles.

Between the provinces of British Columbia and Alberta lie the majestic Rocky Mountains. With snowcapped peaks, crystal clear lakes and stunning waterfalls, the Canadian Rockies are a must-see for any nature-lover. The diverse wildlife includes black, brown and grizzly bears as well as elk, moose and caribou. Along the rivers and lakes, you can also spot Canada's national animal – the beaver. And if your bucket list includes seeing the Northern Lights, Canada offers some of the very best conditions in the northern regions of most provinces. In eastern Canada, stunning view of the Atlantic Ocean can be appreciated in the picturesque Maritime provinces. In Ontario, the most populated province of Canada, nature is easily accessible even from the big city. The ravines of Toronto are unique urban forests with hiking trails within the city, and the famous Niagara Falls are just a short bus ride from Toronto.
Friendly and inclusive
Canada is well-known around the world as a friendly and welcoming country, and it is consistently rated as one of the safest countries in the world. Crime rates are low in Canada and continue to decline in recent decades, making it one of the safest destinations in the world for anyone planning to study abroad. With a diverse population and an appreciation for multiculturalism, Canada is a nation that values tolerance and inclusivity. The history of Canada has been shaped by immigrants from around the world and is reflected in the diverse architecture, cuisine and cultural events such as international festivals and concerts.
Active lifestyle
Many Canadians enjoy an active lifestyle and regularly participate in outdoor activities such as canoeing, camping, skiing, hiking and bicycling. In Canada's larger cities, bike paths and bike rentals allow residents and visitors to explore the cities easily. Many bike paths also lead out of the cities to natural attractions such as beaches and hiking areas. Numerous parks and trails also offer opportunities for outdoor activities like playing games with friends or jogging. Sports such as hockey, basketball and baseball are also popular in Canada, and many parks offer free access to ice rinks for skating and baseball fields where friends can meet to enjoy a game together.
World class cities
Canada's cities consistently rank highly in lists of the world's greatest cities. Vancouver, Toronto, Calgary and Ottawa are considered top destinations due to factors such as economic growth, quality of life and healthcare. Toronto, the most populated city in Canada, is also one of the most diverse and vibrant cities in the world. Toronto enjoys a reputation for being a trendy and exciting city with excellent restaurants, entertainment and education opportunities. The second most populated Canadian city is Montreal, located in the French-speaking province of Quebec. Montreal is known for its unique blend of modern and historic architecture as well as its numerous cathedrals. It is also a famous hotspot for musicians, artists and circus performers. On the west coast, Vancouver often ranks as one of the happiest and most liveable cities in the world. Surrounded by mountain and water, Vancouver is an exciting location for a study abroad experience due to it opportunities for outdoor adventures. Ottawa, the capital city of Canada, is known for its historic sites and landmarks, and Calgary is famous for its cowboy tradition as well as its economic growth which is focused heavily on the oil industry.
Four seasons
If you have always wanted to see snow, Canada is a great choice for your study abroad experience. Visitors from around the world come to discover Canada's distinct seasons: winter, spring, summer and fall. Each season brings changing landscapes and temperatures. In the winter months from December to March, many parts of Canada receive abundant snowfall, and people enjoy winter sports such as skiing, snowboarding and snowshoeing. Winter festivals across the country celebrate the season with snow sculptures and winter activities like tobogganing. In the spring, Canada's cities come alive as temperatures start to rise. Flowers bloom, parks fill up with visitors and restaurants open their terraces for outdoor drinks and dining. Summers in Canada can be quite hot, occasionally reaching 30 degrees Celsius in July and August. This is the perfect time to take advantage of Canada's many lakes and rivers by enjoying a kayaking or canoeing trip. In the fall (or autumn), the foliage of many trees turns beautiful shades of yellow, orange and red. The red leaves of the maple tree are a particularly well-known symbol of Canada and can be seen from late September to the end of October.
Unsere Standorte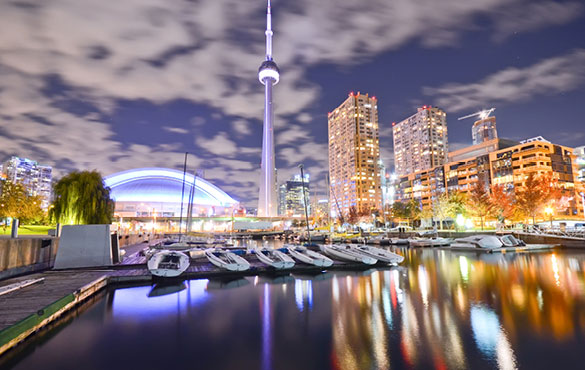 Toronto
Sprachschule (LSI)
Toronto ist das wichtigste Wirtschafts- und Kulturzentrum Kanadas sowie dessen grösste Stadt und verfügt über eine lebendige Innenstadt sowie Hunderte von Parks und viele Grünflächen. Die grossen Seen, die Niagarafälle und die atemberaubend schönen Wälder von Onatrio befinden sich ganz in der Nähe der Stadt. Ganz egal ob Sie nun ein sportbegeisterter Weiterlesen
Erfahren Sie mehr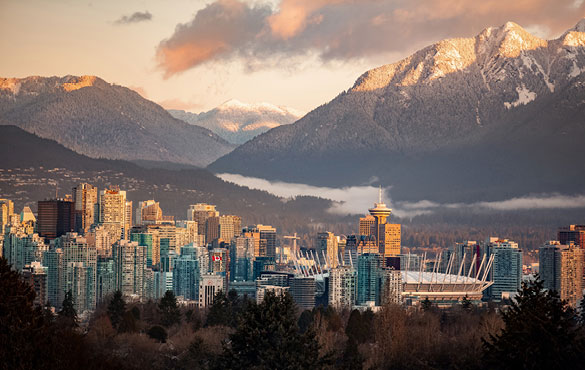 Vancouver
Sprachschule (LSI)
Vancouver liegt zwischen schneebedeckten Bergen, den Coastal Mountains, und dem Pazifischen Ozean, was dieser Stadt eine unvergleichliche natürliche Schönheit verleiht. Vancouver ist eine modern Stadt, die es Ihnen ermöglicht einerseits am Strand spazieren zu ghen, durch bewaldete Parks zu schlendern oder einfach nur einkaufen zu ghen in einer der Weiterlesen
Erfahren Sie mehr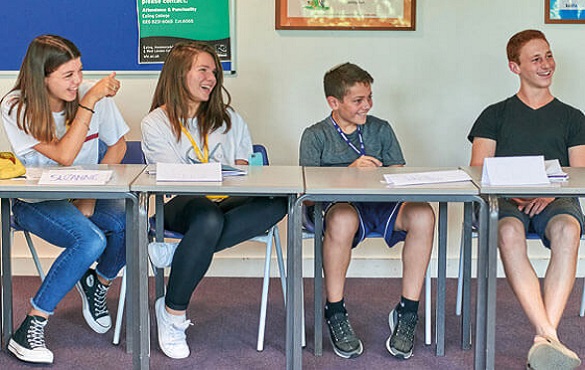 Summer Camps for Juniors
Our Junior courses are ideal for all young people eager to develop their language skills while benefiting from an exciting variety of cultural and social activities.
Erfahren Sie mehr
Teacher Homestay
Live and study in your private teacher's home in Canada. Language lessons and cultural excursions.
Erfahren Sie mehr
Die LSI-Kursteilnehmererfahrung
Werden Sie Teil der internationalen LSI-Gemeinschaft. Entdecken Sie, wie es ist, LSI-Schulen zu besuchen und erfahren Sie mehr von jetzigen und ehemaligen Kursteilnehmern.
Berichte
Had a great time at the school! A very professional, friendly and engaged team!! I will miss all those amazing people! Greetings, especially to Linda and Bernard!Florian
Florian Schällig , Vancouver
We can make friends with all students because the school size is appropriate for students.Teachers perform lessons which is based on their own personality.Anyway, here is owesome!
Everything was really good. The teachers are very well prepared and have all the knowledge to help you improve your English. The whole staff is awesome.
Wesley de Oliveira , Vancouver
The school is really nice, in fact all my experience in Vancouver is amazing. I'll miss so much everything about the school and the city. I'll miss you Canada
Jordao García , Vancouver
MORE