Why study abroad in Switzerland?
"Switzerland melds the best of all worlds — and adds a healthy dose of chocolate, cowbells, and cable cars."
Why study abroad in Switzerland?
If you enjoy the outdoors, Switzerland is the place to head for on your study abroad year. Mountaineering, hiking and skiing are national pastimes, and your study abroad wouldn't be complete without partaking in at least some of these Swiss passions. Even if your chosen study abroad college is in the heart of a city, you'll never be more than half an hour away from mountains or lakes. Incredibly the Swiss have four national languages. With such a diversity of language and culture, it's hardly surprising that most study abroad students soon feel right at home. Studying in Switzerland offers unparalleled opportunities to develop your language skills. German, French or Italian are all spoken depending on the part of Switzerland you choose for your study abroad programme.
LSI offers study abroad programmes at our German language school in Zurich. Whatever your goal, we can advise you on the right German course for you. With such an international mix in our schools, you'll be joining study abroad students from around the world and making friendships that will last a lifetime. Why not expand your horizons and contact us about the best study abroad option for you.
Our Locations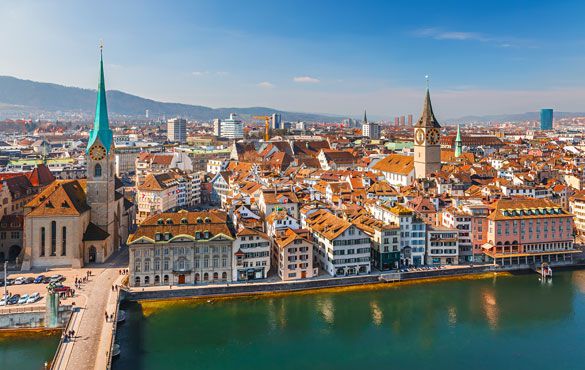 Zurich
Study abroad in Zurich and discover a city that effortlessly embraces the old with the new, high-brow pursuits with a hip urban scene, the great outdoors with a cosy café culture. A global centre for banking and finance, Zurich is a cosmopolitan city picturesquely set on the northern shore of Lake Zurich. At its heart lies the Altstadt, Zurich's old town, full of quaint, winding lanes and ancient churches. With over 500 bars and nightclubs, top-class museums, an acclaimed opera house, theatres, live music venues and outdoor cafés there will plenty to entertain you inside the city. Outdoors enthusiasts are well catered for too. Hiking, skiing, river rafting and mountain biking can all be enjoyed within an hour's journey from Zurich.
Find out more
English
French
German
Spanish
Italian

Teacher Homestay

Live and study in your private teacher's home. Language lessons and cultural excursions. Programmes available in 30 countries.

Find out more