Course length: 12-48 weeks
Start dates: LSI's Pathways programme starts on the first Monday of January, April and September. Students may start in the General English programme on any Monday and later transfer into the Pathways programme.
LSI's Pathways programme prepares students for the academic challenges facing them on English speaking programmes at top colleges & universities in the UK, USA, Canada, Australia & New Zealand. By the end of the course, students are expected to reach LSI's Advanced level, equivalent to TOEFL iBT 110 or IELTS 6.5+. Students will learn general language skills and academic skills necessary to thrive on English speaking undergraduate and post graduate programmes. The LSI Pathways programme also prepares students for the challenges faced in an English speaking workplace.
Academic English
LSI's Pathways programme includes the Academic English course. This course is built by the counsellor, student and academic manager to give the student the best chance of reaching their chosen institution's academic targets.
The course is a combination of general English, Cambridge Assessment Exam Preparation and Academic Exam (IELTS/TOEFL) preparation, depending on the needs of the students and their chosen institution. In addition, two further Pathways classes per week allow time to discuss progress, work on applications and tackle any language issues.
This combination, tailored for each student, meets individual hopes and needs. This is all supported by specialised, targeted, online resources through our online learning system, E-LSI.
What skills do we teach?
University research and presentation skills
Effective communication in academic situations
Exam skills and techniques
Note taking and organising
Essay writing skills, including critical thinking and developing and presenting arguments
Optional classes include: - Cambridge English Exam courses, FCE/CAE/CPE/BEC - IELTS, TOEFL iBT, TOEIC - Business English
Exam Preparation
Many LSI partner institutions accept LSI's own levels as proof of English. However, LSI can also prepare students to take external English level tests, which may be required by some LSI partner institutions, as well as other institutions not affiliated with LSI. LSI has a very high success rate in preparing our students for these external exams and offering advice about which examination course is right for you.
Read more
Additional Academic Support and Management
Pathways Induction
Pathways students receive a special induction and orientation during their first week, ensuring that both they and the Academic Director are clear about their goals and expectations. This induction also ensures that the student knows how best to benefit from all the services that the school offers.
Additional Sessions
Each Pathways student receives personal supervision and extra support from our academic team in conjunction with the school's Pathways counsellor to ensure that their academic goals are met.
In addition to their regular classes, each Pathways student receives 2 x 50 minute sessions per week:
1 x 50 minute language review and support
1 x 50 minute session on professional development and college/university application support
In these sessions, students choose which topics to focus on. Support is available in a wide range of areas, including but not limited to: employment skills, academic English and college or university application information.
These additional sessions are provided in groups. Sizes may vary between LSI schools.
All LSI students also receive personal academic supervision through regular tutorials and progress testing.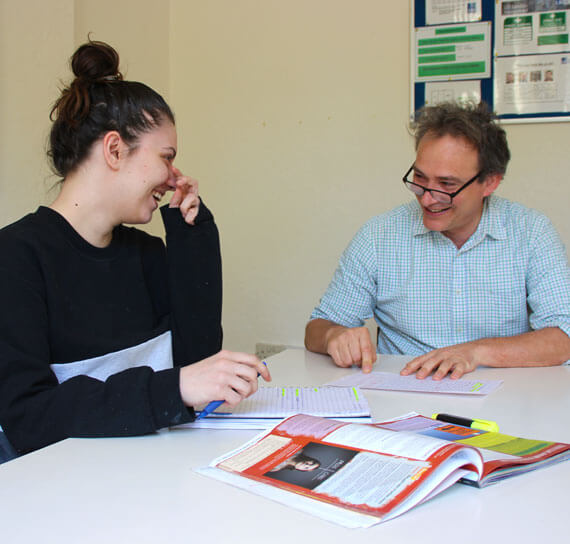 LSI Progress Testing
Regular testing and multi-skill evaluations track exactly how far you have progressed and ensure that our academic team keeps you on track to meet your goals.
Programme Information for Pathways in France
The Pathways Programme in Paris will prepare students for the DELF and DALF examinations, both of which are accepted as proof of French language level by French-speaking universities and colleges. In addition the programme helps students to develop the academic skills needed to thrive in a university setting. Course length and dates are the same as the English-speaking Pathways programmes.