Learn English at LSI London Hampstead
Study English in Hampstead, one of London's most beautiful and exclusive areas.
The leafy and picturesque area of Hampstead is one of London's best-kept secrets. Brimming with restaurants, cafes and boutiques as well as London's largest park, Hampstead Heath, and just 20 minutes from the very centre of London, Hampstead is the ideal place to learn English in England.
Our language school is a spacious and airy Victorian building with a beautiful, secluded garden. Whether you are studying for TOEFL or Cambridge Examinations or studying English on one of our more general ESL/EFL programmes, you will benefit from excellent facilities including a computer room and language lab, a library and wireless internet to help you get the most out of your English course.
Reviews
" I spent 4 weeks learning english, and I think that I improved a lot my conversation and everything around it! It is a very happy school and I really want to spent more weeks again!
Luís Fernando Della Bruna
" It was the RIGHT WAY to learn and to improve my English.
" What a very nice place to learn English. It' very close to the underground. There is a beautiful garden where you can play tennis table. I can't do not recommend you this school
MORE
Student Life

Featured Course
General 20 tuition
Course materials
Homestay lodging, single room
Breakfast only or breakfast AND evening meals
Speak to an LSI representative.
Special promotion only applies for ONSHORE students.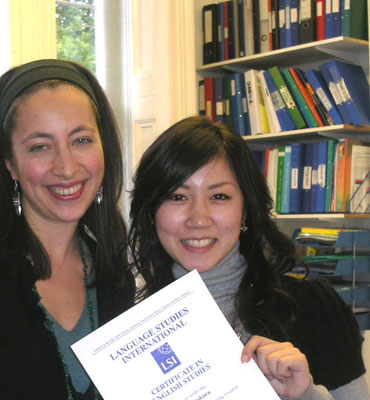 "Thanks to LSI, my English improved so much because we were talking English all the time. All the teachers..."
Read more
School Information & Services
Teacher Homestay
Live and study in your private teacher's home in London Hampstead. Language lessons and cultural excursions.

Find out more

?>